Establishment of the Hiroshima ASEAN Association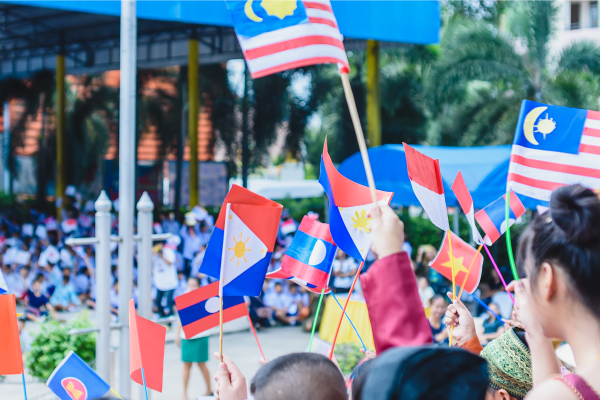 The ASEAN which is constituted of ten Southeast Asian nations was established in 1967. It will celebrate the 50th anniversary in 2017. Over the past half a century, ASEAN has made remarkable socio-economic achievements. With the rapid growth of the middle-income earners, the ASEAN has now been shifting from a global factory into a large consumption market.
The ASEAN Economic Community was officially launched in 2015 which will come over a single production base and market through the dynamic movement of trade, investment and manpower. Meanwhile Japan has put considerable efforts to build up a strategic partnership with ASEAN in the field of economy, tourism, education, and culture. It is not overstatement to say that the multi-pronged linkages thus formed between ASEAN and Japan has offered a role model of globalization.
The Hiroshima ASEAN Association was founded in 2013, the memorable year of marking the 40th year of friendship and cooperation between ASEAN and Japan. A few important factors behind the establishment of the Hiroshima ASEAN Association should be highlighted.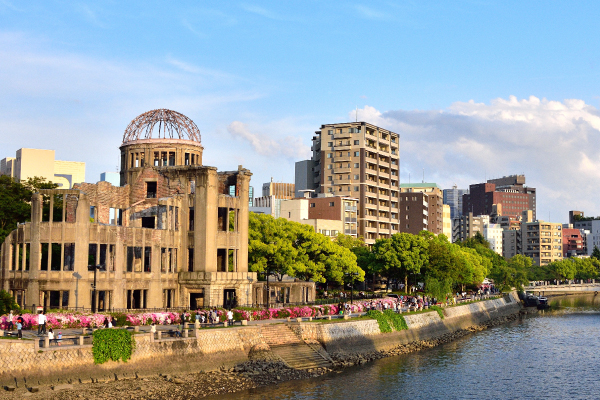 First, the regional power is indispensable to support economic growth at the national level. Hiroshima has earned its reputation through the "Itsukushima Shrine" and the "Atomic Bomb Dome" which have been designated as world heritages. More important, it is one of the leading industrial regions which possess strong manufacturing skills and technologies highly competitive in the global market.
Secondly, people of Hiroshima have a pioneering spirit to go abroad who have played a leading role in promoting international exchange. In addition, there are a large number of organizations in Hiroshima itself which have actively undertaken international exchange programs. Taking advantage of rich experience and knowledge possessed by industry, government, and academia of Hiroshima, it is considered one of the most qualified regions in Japan to deepen mutual understanding and cooperation with ASEAN.
Since its inception the Hiroshima ASEAN Association has carried out a wide variety of activities in close cooperation with local industries and organizations. Taking the opportunity of 50th anniversary of the establishment of ASEAN, the Hiroshima ASEAN Association stands fully committed to accelerate economic, people-to-people, and cultural exchange and partnership between ASEAN and Japan, and, in particular, Between ASEAN and Hiroshima.
ACTIVITIES
The Hiroshima ASEAN Association conducts a wide range of activities which are basically classified into three categories. First, the promotion of trade and investment between ASEAN and Hiroshima industries. Second, promotion of tourism between ASEAN and Hiroshima. And third, strengthening of the ASEAN profile in Hiroshima by widely sharing ASEAN-related information among Hiroshima citizens in cooperation with media and ASEAN-related organizations. Among others, focus has been placed on people-to-people exchange – students, businessmen, and women. Major activities so far undertaken are listed below:
Conduct of the meeting of board directors and the annual meeting of the Association,
Liaison with the ASEAN-Japan Centre,
Invitation of ASEAN ambassadors in Japan to Hiroshima,
Organizing an opinion exchange meeting with ASEAN bilateral exchange groups,
Conduct of ASEAN seminars,
Support of ASEAN students,
in general meetings and seminars conducted by other ASEAN-related organizations,
Conduct of ASEAN study meetings jointly with the Hiroshima Prefectural Assembly,
Liaison with the Hiroshima International Centre,
Support of the Hiroshima ASEAN Festival,
Promotion of sales expansion of Matsuda vehicle,
Participation in general meetings and seminars conducted by other ASEAN-related organizations,
STUDY MISSION
In addition to the above activities, the Association has deputed a study mission to ASEAN every year.
The first mission was sent to Laos and Cambodia in February 2016 in which 18 persons including top and middle management of business corporations and media took part. The mission has visited government agencies related to trade and investment and conducted active dialogue with competent ministers. It has also observed a number of Japanese companies operating in the host countries as well as socio-cultural sites including Angkor Wat.

The second mission was sent to Myanmar in February 2017 with 22 participants. Due to tight schedule, the itinerary was limited to Yangon only including visit to government agencies, Japanese companies, the Thilawa special economic zone, and a few tourism spots.
Both missions have given good opportunities for participants to launch new investment and business.

The third mission composed of 16 top executives of business corporations and media was sent to Indonesia and Malaysia between 3rd a d 10th February 2018.The highlight of the program was the visit to the ASEAN Secretariat in Jakarta, Indonesia where the mission was fortunate to gain knowledge and information through the dialogue with the senior staff of the Secretariat about ASEAN's road map of development in the coming years.
MENBERSHIP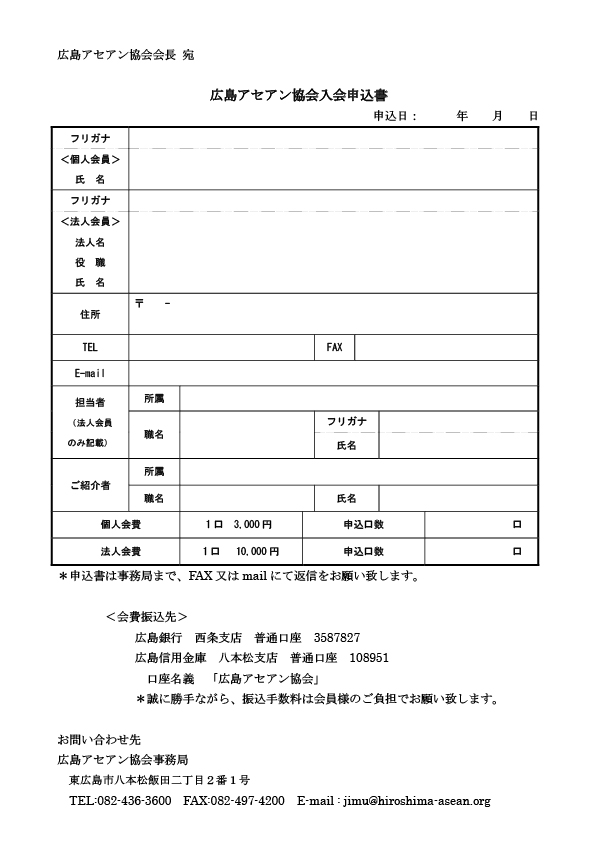 入会申込書をダウンロードする
HOW TO APPLY
1. Please submit the application form by fax or e-mail.
Fax: 082-497-4200 Email: jimu@hiroshima-asean.org
2. The secretariat will contact you upon receipt of your application.
Annual fee
Individual ... 3,000YENOrganization ... 10,000YEN
ORGANIZATION

Chairman:

Yukiharu Kodama (ex-Vice Minister of the Ministry of Internal Trade and Industry, and Chairman of the Mechanical Social System Foundation)

Vice Chairman:

Setsuko Komatsu (President of the Mentecworld Co., Ltd)

Executive Director:

Noritake Funamoto (Senior Managing Director of the Mentecworld Co., Ltd)

Board Members and Advisors:

165 (individual , organizations )

Secretariat

2-2-1, Hachihonmatsuiida, Higashihiroshima , Hiroshima,739-0146 Japan

Tel

082-436-3600

Fax

082-497-4200

E-mail

URL